Caught Caring: Wanda Sykes, 50KShoes and Soles4Souls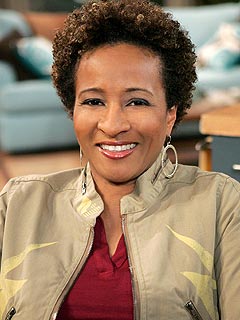 Cliff Lipson/CBS/Landov
When Haiti was struck by a 7.0 magnitude earthquake in January, the tiny Caribbean nation suffered a crippling blow.
The push to fulfill the most urgent needs of Haitians — food and water — was immediate, but two months later victims are still going without many of the most basic of necessities, like shoes.
Soles4Souls is leading the effort to fill that void, and it has found allies in Wanda Sykes and 50kShoes.
The mom of 10-month-old twins Olivia Lou and Lucas Claude — known for her comedic flair — was noticeably somber while recently taping a plea for contributions.
"As little as five dollars will provide two people with a pair of shoes," explained Sykes. "Let's all come together and do what we can for the people of Haiti."

50KShoes notes that in this instance a little — the price of a venti frap — really does go a long way. In their efforts to rebuild, Haitians must navigate broken glass, twisted metal and raw sewage, making footwear essential. Enough funds for just over 24,000 pairs of shoes has been raised thus far, and the group hopes to reach its 50,000 pair goal within 50 days.
Helping is quick and easy. Simply click here to donate, with no shipping to pay or trips to the post office to make. Feeling especially generous? Sponsor an entire family — supplying 10 pairs of shoes — with a $25 contribution.
Soles4Souls — a recipient of The Independent Charities Seal of Excellence — has provided assistance to more than 60 countries around the globe. For more information on how you can contribute to their other international efforts, click here.