Bethenny Frankel Gets Her First Maternity Jeans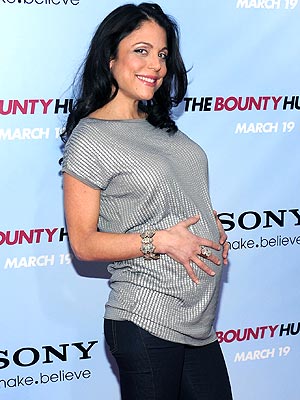 Dimitrios Kambouris/WireImage
She's seven months pregnant, but Real Housewives of New York's Bethenny Frankel is just now slipping into her first pair of maternity jeans.
"I got them today at a photo shoot and bought them [on the set]," she tells Moms & Babies of her Mylo Dweck Maternity skinny jeans ($60) at the New York premiere of The Bounty Hunter on Tuesday.
"I feel great. I love it!"
The Skinny Girl chef and her growing bump hit the red carpet in her new denim, paired with a striped silver Vince tunic, sparkly jewels and Jimmy Choo heels.

So far, dressing as a mom-to-be has been a cinch, but what's Frankel doing to prep for the big day?
"I do yoga, so I think I'll be okay," says the reality TV star. "I don't think I will do breathing classes."
"Either I've had what I think is an easy pregnancy, or everyone is overly dramatic. I'm not the obsessed pregnant person," Frankel, 39, explains. "I'm not the first person who has ever been pregnant, and I won't be the last."
We can only assume Simon, Kelly, Jill, or Ramona are ruled out. But have she and fiancé Jason Hoppy picked a name for their June arrival?
"No," answered Frankel. "We don't know if it's a boy or girl, but we've thought of a couple of family names. The brother of my fiancé passed away, so we may name the baby after him, but I don't know yet."
— Jeffrey Slonim