Joey Fatone Confused By Daughter Kloey's Cries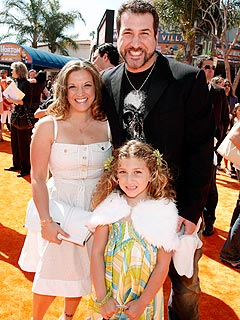 Kevin Winter/Getty
As a former member of 'NSYNC, girls crying in his presence is old hat to Joey Fatone. The wails he's still trying to interpret? Those of his 9-week-old daughter, Kloey Alexandra.
"When she cries, [I've] already fed her, [I've] already changed her — I'm like, 'What is wrong?!' Fatone, 33, told reporters at the N.Y.C. opening of Brother Jimmy's BBQ in Union Square on Wednesday.
"I turn you this way, I turn you that way, do I have to hold you, do I have to rock you? What's the deal?'"
The Dancing With the Stars alum and his wife, Kelly Baldwin Fatone, welcomed the latest addition to their brood  — which also includes elder daughter Briahna — in January.
And it seems like Briahna, who turns 9 next week, is stepping up and accepting her big sister duties — except for one, that is.
"She won't change the diapers yet," notes Fatone. "But she will feed the baby, she'll burp her, she'll hold her, she'll make sure she doesn't cry. She's loving it, she's awesome."
As for his status as the lone man in a family of females, Fatone jokes, "It's my karma for being in a boy band surrounded by screaming girls."
— Shruti Dhalwala