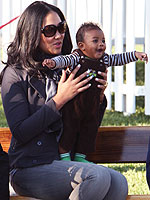 Fame
Fashion designer Kimora Lee Simmons' newest vision has nothing to do with sketches and fabrics for her line: the reality star is busy envisioning herself as a mother-of-four!
"We practice all the time and it's a lot of fun," she tells OK! of her plans to expand her family with Djimon Hounsou. "I can definitely see having more."
So can her actor husband, who is looking forward to more kids — despite his first-time father jitters! "He's totally amazing. It's really changed his life," Kimora, 34, notes. "Seeing him change a diaper and get up in the middle of the night … he's very nervous."
Already mom to two "very girly girls" with ex-husband Russell Simmons, Kimora is hoping to give her son Kenzo, 9 months, a baby brother. "I would love to have another boy," she reveals. And if her wishes come true, Ming, 10, and Aoki, 7 ½, may find themselves placing their toys a few shelves higher.
"[Kenzo] wants to crash things and bash things. Boys are definitely rougher and more aggressive."
Having shed "about 40 to 50 pounds" since giving birth, Kimora — who is "still working on her body" — insists she doesn't get caught up in the numbers. Instead, she lets her clothes do the talking!
"I really go by how things fit," she explains, adding that bouncing back after baby isn't all about the weight loss. "It's about peace of mind, healthiness and happy living," Kimora says.
The season premiere of Kimora: Life in the Fab Lane airs Mar. 21st.
Source: OK!
– Anya