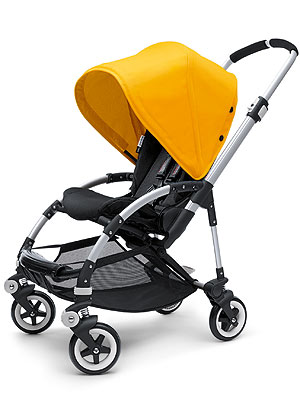 Courtesy of Bugaboo
Moms are buzzing about the newly redesigned Bugaboo Bee ($650, left) — and for good reason.
The original Bee ($529) — which is the ride of choice for celeb babies like Levi McConaughey and Violet Grohl — is known for its smooth ride.
But the updated version boasts some noteworthy improvements. And with the increase in price, this makes all the difference.
Topping our list is the new wider backrest. Not only does it simultaneously adjust with the stroller's sun canopy and 5-point harness, but you can move it into four different positions.
The stroller also features a comfy, ergonomically shaped seat that easily turns to face you or the world.
The height-adjustable handlebars, redesigned wheels and new brake system are also impressive.
With all these changes, Bugaboo made sure to keep the compact fold — one of our favorite features from the original.
There are also lots of handy add-ons including a reversible bamboo seat liner ($60) and an extendable sun canopy ($70).
Look out for the new Bee in April! Check here for news.
— Missy