Maggie Gyllenhaal: Motherhood Informed My Crazy Heart Role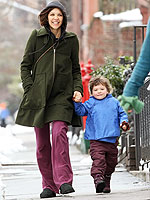 Daniel/Elder Ordonez/INF
Actress Maggie Gyllenhaal has been open and honest about her reasons for accepting a role in Crazy Heart.
In a new interview with The Huffington Post she goes one step further, revealing that were she not a real life mom to daughter Ramona, 3, she couldn't have portrayed Jean Craddock — an Academy Award-nominated performance — with any authenticity.
"I've played mothers before I was a mother and, I think, successfully — sometimes anyway," she muses. "I've also played heroin addicts and have not been a heroin addict." In Crazy Heart, however, Maggie says,
"My state as a mother … is a huge part of the movie for me. It's also a huge part thematically of what happened to Jean."
Noting that in Sherrybaby she played a mother, Maggie says that "it didn't matter" because the character wasn't the kind of mom that Maggie could identify with.
"I mean, that woman had never put a bag of Cheerios in her purse and had never put her hand in her coat and pulled out, like, a squeaking giraffe ever," she jokes. "She gave birth, but that's it."
In Crazy Heart, however, the bond between her character and actor Jack Nation, who portrays her son, was different. "That's sort of where it resonated," she confesses.
"So it was almost better that I wasn't a mom. Actually, I just watched this recently, I watched it at the premiere, and when asked, 'What's the most important thing about you?' I say, 'I have a child.' So for me in this case, being a mother and the way I am a mother are all tied up in the performance."
Ramona is Maggie's only child with husband Peter Sarsgaard.
Source: Huffington Post