Eric Dane, Rebecca Gayheart Name Daughter Billie Beatrice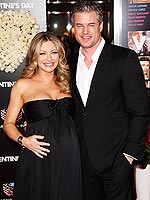 Todd Williamson/FilmMagic
Update: The couple have named their daughter Billie Beatrice Dane, their rep tells PEOPLE exclusively.
Originally posted Mar. 4th: Eric Dane and wife Rebecca Gayheart are new parents to a baby girl.
The couple's daughter arrived on Wednesday, Mar. 3rd in Los Angeles, rep Nanci Ryder tells the Associated Press. "Mother, father and daughter are doing great," said Ryder.
A name has not yet been released, but the Grey's Anatomy star, 37, had previously said Rebecca, 38, wanted to meet the baby before making a final decision.
"I'm really excited," Eric told Ellen DeGeneres last month. "I'm going to stay close to my wife and make sure that she is all right."
The actors, who wed in Las Vegas in 2004, announced the pregnancy in November.
Source: Associated Press
— Catherine Donaldson-Evans