Billie Piper Vows: 'I Will Have Another Child'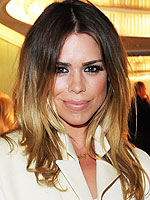 Jon Furniss/WireImage
A "long" labor ending in an emergency c-section hasn't dissuaded Billie Piper from pursuing her dream of making son Winston James, 16 months, a big brother.
Noting that she and husband Laurence Fox have seven siblings between them — "it's just madness and hysteria all the time," Billie says — the couple understand exactly what's in store for them.
At the same time, the 27-year-old Secret Diary of a Call Girl actress feels that moderation is key!
"It's nice coming from a big family, but I'm not sure if I could go for the four, certainly not the five."
Vowing that labor hasn't left her feeling "frightened," Billie muses,
"I think you have selective memory when it comes to those things so I really hope I can have another child. I will have another child, but I'm not sure when that will be."
Secret Diary of a Call Girl airs Mondays at 10 p.m. on Showtime.
Source: The Press Association