Matthew McConaughey: Vida Was the 'Only Name' for a Daughter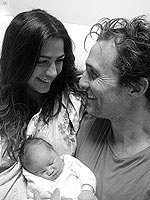 Courtesy Matthew McConaughey and Camila Alves
There were no last-minute lists and baby name books lying around the hospital when Matthew McConaughey and Camila Alves welcomed their daughter Vida in January — the couple had already chosen a moniker long before they discovered they were expecting.
"It was the only name that we had for a girl even before [we had our son] Levi. We had many male names but we only had Vida," Matthew tells Jay Leno of their choice, which means life in both Portuguese and Spanish. "She came out and she gave us life so we named her Vida."
Bringing the new little one into the household has been a breeze, according to the proud papa, who reports that the 9-week-old's routine is  "pretty simple" for now.
"They eat, they crap, they sleep and if they're crying they need to do one of the three and they're having trouble doing it. Real simple," Matthew notes.
However, Matthew is already well-aware that the quiet baby days are only temporary! Sharing that Vida "goes along great" with big brother Levi, the actor reveals sibling rivalry is nonexistent due in part to the 20-month-old's inquisitive mind.
"Levi is into everything," he confesses. "You don't go out and walk in the backyard and daydream for five seconds or they're on top of the house."

Time spent wrangling his rambunctious toddler has left Matthew with a general idea of what may lie ahead in his son's future.
"He's either going to be an astronaut because he's always like air traffic control. From a bird to a plane, sun, moon, cloud, everything in the air," Matthew says. "Or he's Poseidon because he's infatuated with water — "Agua, agua, agua" — for hours."
However, for now, all signs seem to point toward a career as a cobbler! "If he meets you he looks you down to up, he sizes you up … he looks at your shoes, checks you out, and then he's happy to meet you," the doting dad shares.
And while he has already developed the same love for the ocean as his dad, there is one area where Levi seems to have a leg up on Matthew.
"Levi speaks a whole lot more Portuguese than Papa does," he laughs. Admitting that he gets "a little heck for it in the household," Matthew isn't looking to sharpen his skills — all in the name of saving his relationship with Camila!
"I've come to find that I do think it is actually healthy for our relationship that I don't speak that much Portuguese because she doesn't have to whisper if she's talking noise on me. She can speak out loud," he explains. "I don't know what she's saying, but it sounds great … someone can say something about you right in front of your face and you don't even know it's about you."
Praising Camila for her ability to balance two kids with her hosting gig on Shear Genius, Matthew is always willing to lend a hand when needed. That said, he deems himself useless when the night shift rolls around!
"When Vida wakes up at night [she] doesn't want anything to do with Papa, Vida wants some milk from Mama," he points out.
Happy to discuss his growing family, when the talk rolled around to Camila's 40-day no-sex rule, Matthew wasn't as willing to divulge details.
"I have no idea what you're talking about. I'm not telling this tale on TV," he laughed, before adding, "Great day, go 41!"
— Anya Leon