Emerson Drive's Brad Mates Expecting First Child – a Boy!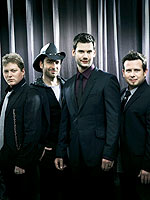 Joseph Anthony Baker
Emerson Drive's Brad Mates is gearing up to sing a different tune: lullabies!
The country crooner and his wife Jana are expecting their first child — a boy to be named Tyler — he revealed during an interview with CMT.
With their April due date fast approaching, Brad is still getting used to the idea of fatherhood. "[Becoming a father] is a little surreal right now," he admits. "I still don't believe that we're going to be parents soon."
Even the "new toys, clothes, bottles, [and] diapers" stacked around the house have yet to make an impression on Brad, who insists everything will click once baby boy makes his appearance. "Until we bring him home, I can only wonder how it's all going to feel," he says.
And for Brad and Jana, that day can't come soon enough!
"Jana and I are so excited for the baggy eyes and sleepless nights ahead … ohhhh no!"
Source: Emerson Drive
— Anya