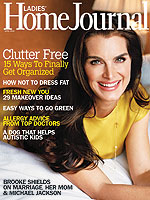 Courtesy Ladies Home Journal for use on CBB
A childhood spent acting and modeling is an experience Brooke Shields knows all too well. It is, however, one that her two daughters will not be sharing with their mother.
"It's a high like you can't imagine. It's like a drug," she says of the entertainment business in the April issue of Ladies Home Journal.
"But no, I don't want them involved. Every day you're told what you are not: You're not short enough, you're not thin enough, you're not pretty enough. You're always losing out."
Despite years of managing a successful career by herself, the mother-of-two, 44, finds herself longing for her own mother now more than ever. Unfortunately, with Teri Shields slowly succumbing to Alzheimer's disease, Brooke has been forced to adapt to their evolving relationship.
"I've dealt with her alcoholism for years, but this is so new to me," she admits. "I'm confident in my own mothering, I've been making all my own decisions for a long time, but after all these years, I want my mom."
And while Brooke is acutely aware of all that her mother's diminishing health entails, she admits it is beginning to have an effect on her children as well — particularly Rowan Francis, 6 ½. "My oldest is uncomfortable because she knows more," Brooke says.
"One day she said, 'Mom, are you gonna be crazy like Toots when you grow up?' I was like, 'Oh, God.'"
While she attempts to strike a balance between her home life and her career — confessing that she is wary of one truly existing — Brooke is quick to point out that she is forever trying to do it all.
"I'm greedy," she reveals. "We were walking to school yesterday and my daughter said, 'Mom, I want you to be a class mom.' I laughed in her sweet little face and said, 'You want me to be a class mom?' I said, 'I'm a classy mom. Isn't that enough?'"
Brooke and husband Chris Henchy are also parents to Grier Hammond, 3 ½.
Source: Ladies Home Journal; April issue
– Anya