Minnie Driver: There Is No 'Perfect Time' for Motherhood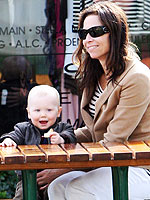 Fame
At the age of 40, actress Minnie Driver is realistic about her odds of making son Henry Story, 18 months, a big brother.
"Growing up, I thought I'd have at least five kids," she confesses in a new interview with the Times Online. "I'm surprised I have only one; I really want more."
Although it was never her intention to wait until her late thirties to become a mom, Minnie says "it was never the right time, right place or right person."
"Too many women put it off until everything is in place, but there's never a perfect time, is there?"
Nonetheless, Minnie is quick to point out that she harbors no regrets about how life has unfolded.
"I wouldn't change a thing about what I've done in the past because what may have been bad choices have all led me to this moment," she insists. "I'm incredibly happy because I've got my beautiful baby and lovely partner."
That partner — whom she again declines to identify, saying only that he is English, lives in California and is in the entertainment industry — is still very much a part of her life, and Henry's. "Everybody is cool with the situation," she reveals.
In Scotland to film The Deep, a new BBC drama, Minnie says that while she is happy to spend time in her native UK she remains very much a devoted Californian. "It's been great for Henry to spend time with his cousins," she explains before asking, "Could I move back? No."
"I live my life outdoors, surfing, hiking, riding and running along the beach in the sunshine, having barbecues; even though I miss home, I could do the things I wanted to, personally and professionally."
Click below to read about Minnie's stance on crying it out.
Speaking of work, Minnie notes that her "entire pregnancy" with Henry — who walks like a "little drunk Frankenstein" — and first two years postpartum have been chronicled on the big screen in various films.
"Flabby stomach and giant boobs for all to see," she goes on to quip.
Parenting guru Rachel Waddilove was instrumental in helping mom and baby settle into a routine, especially given the ever-changing surroundings that accompany each new set.
"There's no way, as a new mum, I could have let Henry cry for long … a little bit, maybe," she explains. "Besides, once you get your feeding sorted, their sleeping patterns fall into place."
"I've never brought Henry into bed with me, which was very hard, but I wanted to teach him that his bed isn't a scary, isolated place. Now he's the happiest, funniest, sweetest and most adaptable baby; he has slept in more drawers, walk-in closets and hotel bathrooms than you can imagine. We're proper gypsies."
Source: Times Online