Helena Bonham Carter 'Growing Up Again' With Son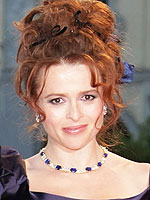 Daniele Venturelli/WireImage
Fantasy is something Helena Bonham Carter delights in as an actress, and the apple hasn't fallen far from the tree when it comes to her son Billy Ray, 6.
"Wave wands and pretend … that's all he does," the Alice in Wonderland star, 43, reveals to FearNet. "So I'm growing up with him again, and we've got a lot to talk about."
"He said the other day, 'Mom, do you have to be a queen or a witch tomorrow?' It's pretty much like that though — I'm a witch one day or a queen the other. It's just lucky."
Billy's dad — and Helena's longtime partner — Tim Burton also likes to disappear into his work, but for longer periods of time than Helena would like.
When asked whether Tim has approached her about appearing in his next project, Dark Shadows, Helena said no — and that she had more pressing concerns!
"What I just want to know is if he's coming home now for the babies … Because we've been separated for six or seven months … He's been stuck in his room drawing and directing and animating all this time."
In addition to Billy, Helena and Tim are parents to Nell, 2.
Alice in Wonderland is in theaters now.
Source: FearNet