Ron Howard: Remember to Find the Laughs in Parenthood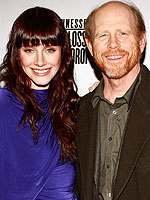 Brian Ach/Wireimage
Director Ron Howard is the man he is today because of fatherhood, he reveals in a new interview with PARADE. "I think I've probably learned more and grown more because I'm a father than for any other reason," he notes.
Now with his new series Parenthood, Ron is hopeful viewers will be able to see the lighter side of raising children. According to him, the task is made that much more difficult without a bit of laughter.
"Humor is unavoidable," he muses. "It might not feel funny in the moment, but more often than not there's a light at the end of the tunnel and you can personally look back and find the laughs in being a parent."
While he confesses that he "felt pressure" when it came to fatherhood — "trying to do it right, to be what I should be to my kids" — the experience is one that Ron would never change. "At the same time, I wouldn't trade it for anything," he explains.
His doubts of being an adequate father were eventually put to rest when he received news that his wife Cheryl was expecting twins, four years after the couple welcomed their first child. "She was in a bed for three or four months and she was going crazy," he recalls. "For the first time in my life, I had to take a lot of extra responsibility at home."
Juggling his personal life while preparing to film Cocoon, Ron remembers he nearly succumbed to the pressure. "I had a few times when I had to ask myself, 'Can I do this? Will I be able to do this?'" he shares. "And I suddenly realized that I could handle it. I think that was a watershed time in my life both as a parent and as a person."
Click below to read how Ron used his own instints to parent his children.

And even though he is quick to point out that Andy Griffith from his hit show "was sort of like a father to me," Ron admits he ultimately allowed his own instincts to take over when it came to his family. "In crunch time, trying to figure out what Cheryl and I should do with one of our four kids, my thoughts would go to my own father and mother and Cheryl's to hers," he says.
"I wouldn't be thinking about what happened on an episode of The Andy Griffith Show."
Despite his youngest child — son Reed Cross — turning 23 this year, the baby days are far from over. Ron's oldest daughter Bryce Dallas Howard welcomed son Theodore Norman Howard Gabel in 2007, and he is thrilled with all that being a grandparent entails.
"I love being with him. I didn't remotely understand how profound the experience of being a grandparent is until you become one," he says.
"It's interesting, when you become a grandparent you start bumping into other folks who have had that experience. And there's this sort of wink and a nod like it's sort of a club or something."
Ron and Cheryl are also parents to twins Jocelyn Carlyle and Paige Carlyle, 25.
Source: PARADE
— Anya