CBB Chats With Kourtney Kardashian!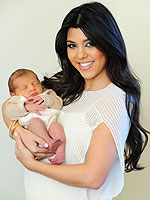 Albert Michaels/Startracks
Having made her name as part of the Kardashian family on E!'s hit show Keeping Up With the Kardashians, eldest sister Kourtney Kardashian, 30, is facing a new reality: motherhood!
After delivering son Mason Dash on Dec. 14th, Kourtney and boyfriend Scott Disick have tackled parenthood head-on — and in full view of television cameras.
Currently filming the second season of Kourtney and Khloé Take Miami in Florida, Kourtney answered Celebrity Baby Blog readers' questions via e-mail.
Click below to read the interview!

CBB: Many of our readers appreciated your honesty about the initial ambivalence you felt towards pregnancy, and you've continued to be open – for example, speaking out about your postpartum figure being airbrushed away on a magazine cover. Why is it important to you to speak your mind about issues others may consider too personal?
Kourtney Kardashian: I feel that if I'm going through something, I'm sure someone else is too. I try to be as honest with myself and others as I can be. If my situation can help anyone else, that's even more of a reason.
A large percentage of CBB commenters think baby Mason looks just like your brother Rob! Whose features do you see in him?
So many people say he looks just like Rob and my Dad! I think he takes after my side of the family, but he definitely has Scott's exact chin and ears. He looks like Mason to me. I stare at him all day.
Is Mason hitting any milestones yet?
Yes! He's smiling all the time … it's one of my favorite things. He rolled over at two weeks!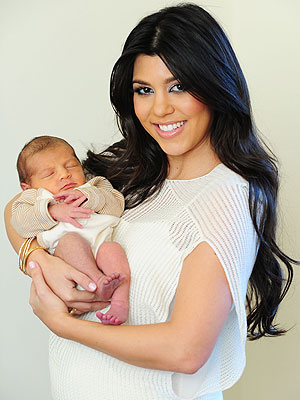 Albert Michaels/Startracks
Can you walk us through your daily routine now that you have a baby? Do you have a nanny or family help?
Every day is different. I always wake up before him, get breakfast started, get his outfit laid out, bath ready. We always have playtime, storytime and bathtime every day.
I don't have a nanny at this time … I bring Mason with me everywhere. I made a decision to really spend as much time with him as possible. Not make lots of plans … just focus on Mason. The couple of times he hasn't been with Scott or me, he's with my mom or sisters.
For many moms, nursing can be both a frustrating and rewarding experience. How has it been for you?
Breastfeeding has been going very well! I love and appreciate the bonding time with Mason. Nursing is surprisingly one of my favorite things.
What has been the hardest part of becoming a parent?
I would say the biggest adjustment for me is finding time to do it all. Mason is my absolute first priority, so everything else has to wait. Finding time for working out, work, a manicure, going to the dentist … anything really, was an adjustment.
What are some of your favorite baby products?
I love the Bloom Fresco high chair and Coco Plexistyle lounger. They look like they're straight out of The Jetsons, very modern and fun! I love Mason's Netto Collection crib, changer and dresser … white lacquer and espresso wood — perfection! I love his Monte Design white leather glider. It's comfortable and chic. Kicky Pants is one of my favorite brands for him so far … it's beyond soft. He lives in it!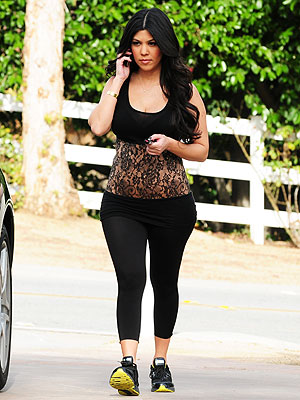 Courtesy Kourtney Kardashian
Can you tell us about the Belly Bandit? Do you find it works for you?
Yes! All of my friends who have children told me I had to get it. It was so cool to have the opportunity to design my own. I totally found that it helped my stomach tighten. It also helped tremendously with back support.
You had such great pregnancy style — would you ever consider doing a maternity clothing line?
I would love to design a maternity clothing line. It is so hard to find stylish clothes for pregnant people … I would say 99 percent of the clothes I wore were not maternity because I couldn't find anything I liked.
Now that Mason has arrived, do you want him to be a part of the family reality show, or keep his life more private?
I would love to keep his life more private, but it's hard when he's always with me. I would rather him always be with me.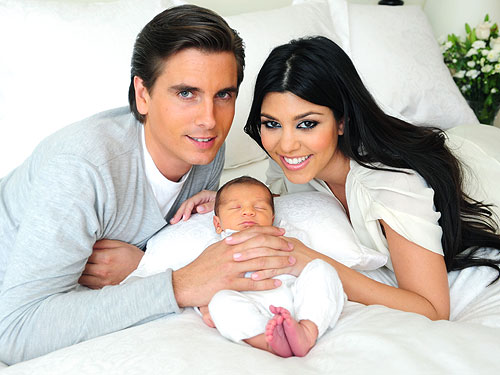 Albert Michaels/Startracks