Angela Kinsey: Jenna Fischer Will Be a 'Great Mom'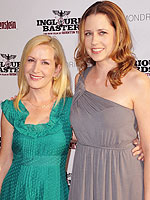 John Shearer/WireImage
The Office costars Angela Kinsey and Jenna Fischer are the best of friends away from the set, and at no time was that more apparent than when Angela welcomed daughter Isabel Ruby, 22 months.
"Jenna was with me in the hospital when I had my baby," she notes. "It was my mom, Jenna and my husband Warren [Lieberstein], and that's who was there."
Jenna's "first-hand" experience that day — and in the days since — served her well as the actress shot Thursday's episode, where her character Pam finally became a mom.
"I remember after we read the script for the baby [episode], I was like, 'But wait! Jenna do you remember?' And she was like, 'Oh yeah, I remember … I had to turn away,'" Angela, 38, recalls. "It gave her some really good perspective."
Spending time with Isabel has been beneficial for Jenna in other ways as well! Angela shares,
"She recently told me this very sweet story that I gave her a little tip about how to quiet a baby. And she was able to use that … with her sister's baby, and her whole family was like, 'How'd you do that?' And she [said], 'Angela showed me that.'"
From the sound of things, Jenna — who is engaged to Lee Kirk — will always be able to rely on her costar for a vote of confidence.
"Jenna's going to be a great mom," Angela predicts. "I, of course, want her to get pregnant yesterday because — come on — Isabel, my bff … we need to have bff babies!"
Source: MovieWeb