Kendra Wilkinson Says Body After Baby Will 'Get Better'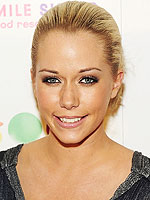 Steven Lawton/FilmMagic
While new moms everywhere would gladly take Kendra Wilkinson's postpartum body, the 24-year-old reality star says that there is still room for improvement.
"I can't say I'm back yet," she tells the Jacksonville Observer. "I'm dieting. I'm going to get better."
Noting that she's under "a lot of pressure" to return to pre-baby form, Kendra reveals that she does "hardcore training" once per week and continues to nurse son Hank Randall IV, 3 months.
"I have to have some fat in me," she explains. "Breastfeeding, you burn off so many calories."
Lamenting the lack of understanding by some in the entertainment industry of how difficult it is to shed the pregnancy pounds, Kendra adds that a woman's body may never be the same no matter how hard she works.
"I had this doctor come over yesterday, to my new house … [he] rubbed my belly and said, 'There's always going to be that small little pooch because your uterus is shrinking.'"
No matter what her weight, Kendra knows that her baby boy loves her unconditionally — and she him. "The bond between us, the love … He knows I'm his mom now," she reveals. "Every time I walk away he cries, which is painful and a negative thing, but also, every time I'm there, he laughs and smiles."
"Besides Hank [Baskett], I'm the only one my baby can recognize and have that immediate comfort with. Wherever we go, if I'm there, he's happy."
Click below to read why Kendra enjoys being a young mother.

Calling motherhood "the best thing that's ever happened to me," Kendra says she's happy to have conquered the milestone in her early twenties.
"I can guarantee, if I'd waited 10 years to have a baby, I'd be in so much more pain and stuff," she insists. "I feel like Supermom. If I need to lift a stroller down the steps, I lift it myself. I'm young and strong."
Source: Jacksonville Observer