Julian Casablancas: Birth Is a Beautiful Thing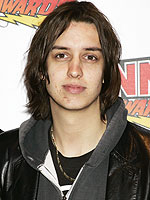 Jo Hale/Getty
Although his baby-on-the-way with wife Juliet Joslin Casablancas is due any day now, Julian Casablancas doesn't exude a sense of urgency in a new interview with Q magazine.
The lead singer for The Strokes reveals that he is "prepared mentally," but hasn't taken many meaningful steps to prepare otherwise.
"Have I painted the nursery?" Julian, 31, asks. "Er, no."
"I haven't done too much. My woman has done all the hard stuff. We have clothes that people have given us. We have a crib ready … birth is a beautiful thing."
So beautiful, in fact, Julian goes on to liken the experience to another momentous occasion he has experienced!
"Making an album can be like being pregnant: you want to pop that thing out and show everybody."
Julian's solo album, Phrazes for the Young, is available now.