Candace Cameron Bure: Daughter Is 'Dabbling In Showbiz'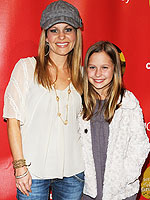 LuMar Jr./ JPegFoto/PictureGroup
Having navigated the tumultuous terrain of former child stardom and emerged unscathed, Candace Cameron Bure is a member of an increasingly small group of actors. The happily married mom-of-three credits a tight-knit family with her continued success.
"Nothing is more important than them," she tells OK! "They're the ones that will stick with you and be there through the good times and the bad times. Keep your family close." It is a lesson she is no doubt beginning to impart to daughter Natasha, 11, who is "dabbling in showbiz."
"She's done a few commercials. She's auditioned for some movies and shows, so I'm letting her pursue that. I'm OK with it."
Quick to clarify that "sports and school" remain the priority both for Natasha and her little brothers Lev, 10, and Maksim, 8, Candace says that husband Valeri Bure's athletic genes are definitely in play.
"One of my boys is playing hockey, and he just scored a goal in his last game," the proud mom, 33, reports. "My other two compete in tennis and they're doing quite well."
As far as academics are concerned, Candace says that she and Valeri — a former professional hockey player — adhere to a few hard and fast rules. "We turn off the TV, video games and computer — except for homework — during the week," she explains. "The TV is reserved for Friday night, Saturday and Sunday just because that's the time to do homework, and it makes it that much less chaotic in our house."
The mind-body connection is also something the Cameron-Bures believe strongly in. To that end, Candace says that her family of five sticks to home-cooked, healthy meals.
"Exercise is a huge part of our home … and making sure that their bodies get what they need, also, physically, because that helps them to relax and for them to do their schoolwork all the better."
Click below to read about Candace's thoughts on more children.
Married since 1996, Candace and Valeri stay connected with lunch dates. "It's the perfect time … because the kids are all in school," she explains. And while parenting three children with "very different" personalities is sometimes a challenge, Candace says it's one she is up for.
"It's hard to parent individually because there's not one set formula that works. Different things work for different kids, and it's finding the balance and the right techniques that the kids respond to."
With that said, don't expect the couple to add a fourth child to their brood anytime soon — if at all! "We're done," Candace promises. "Would I like more? Sure. I would love more. But we're finished."
"As my husband would say, when we travel and rent a car, we can all fit in a normal-sized car and not have to get an SUV for five seats. It's all about the car."
Calling motherhood "amazing," Candace goes on to express gratitude for all Natasha, Lev and Maksim have taught her. "My kids have grown me in ways I never knew possible," she confesses before adding,
"The patience I've received and the love I get from is just amazing."
Candace's new series Make It or Break It airs Mondays at 9 p.m. on the ABC Family Channel.
Source: OK!