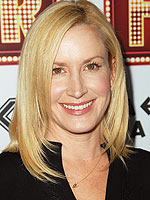 Landov
As The Office characters Jim and Pam prepare to welcome a baby in this Thursday's episode, real life mom Angela Kinsey — who portrays Angela Martin on the hit NBC sitcom — had some words of wisdom for the show's writers.
"I … tried to pitch them some breastfeeding jokes," she revealed to the Toronto Sun, noting that she returned to the set when her own daughter Isabel Ruby, now 22 months, was just eight weeks old.
"Not to over-share, but I had to pump," she explains. "That's a working mom's life if you want to breastfeed."
"We had to take pump breaks all day. Our female writers on the show don't have children, so I pulled them aside. I don't know what they used or didn't use, but it's a fun episode."
Isabel is Angela's daughter with estranged husband Warren Lieberstein.
Source: Toronto Sun