Oliver Hudson: Son Wilder Is 'Talking Up a Storm'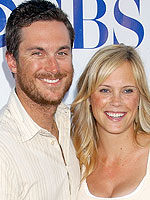 Gregg DeGuire/WireImage
The second time has been a charm for Oliver Hudson and wife Erinn Bartlett. In a new video with PEOPLE, the Rules Of Engagement star, 33, says that Erinn's pregnancy with the couple's second child — due this spring — has been "a whole different ballgame."
"We have [a] crazy 2 ½-year-old running around," he says of son Wilder Brooks. "There's so much work involved with keeping our eye on the little one out in the world."
While that translates into "less time to focus on the joy of pregnancy," Oliver says it is "probably a good thing."
"It's not as new, obviously, and there's a lot less fear. A lot less nerves involved … We know what we're doing now. Or so we think we know what we're doing!"
Baby-on-the-way will be a delivery surprise, just like Wilder was, and from the sound of things the new big brother will have plenty to say on the big day.
"He's talking up a storm," Oliver reveals. "His communication is just phenomenal; It's unbelievable now to just have an actual conversation with him." Only three months ago his son was "barely talking," according to Oliver, but much has changed since then!
"You can ask him a question and he will answer you directly, in a full sentence, of what it is he wants to do. I haven't gotten over that quite yet. It's sort of mind-boggling."
The visibly proud papa adds, "He's a true gift, my little baby."
The new season of Rules of Engagement premieres Monday at 8:30 p.m. on CBS.
Click below to watch the video!