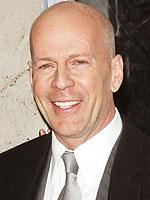 Jim Spellman/WireImage
Actor Bruce Willis has "never been happier," and new wife Emma Heming gets all the credit. "This is the happiest time in my life," he reveals to PARADE. "It just really is."
Of course with three daughters — Rumer Glenn, 21, Scout LaRue, 18, and Tallulah Belle, 16 — at home, wedding bells (and bills!) are something that Bruce will likely become quite familiar with in the years to come.
"I'm not worrying about their weddings yet," he explains, "but when it happens, it happens. Marriage is just one more rite of passage."
In his new film Cop Out, Bruce, 54, portrays a dad who struggles with the word 'no.' It wasn't a role that required much research, he admits.
"That part came easy. In real life, my daughters really rule my emotions, and I would do anything for them."
Rumer, Scout and Tallulah are Bruce's children with ex-wife Demi Moore.
Cop Out is in theaters now.
Source: PARADE