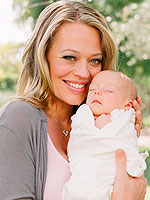 Elizabeth Messina for PEOPLE for use on CBB
With a career that has spanned two decades, Jeri Ryan has weathered  her fair share of Hollywood's highs and lows. Sometimes, she notes in a new interview with SheKnows, those lows have been a blessing in disguise, however.
When her former show Shark was canceled, its viewers were vocal in their disappointment — but Jeri, 41, says she felt anything but. "I was home on maternity leave, so my mind was in a very, very different place," she explains.
"I was really quite fine with it — that one did not hurt. At that point, I wasn't entirely sure I wanted to go back to work."
Fans hoping for Jeri to elaborate will only be in for more disappointment. The mom-of-two says that keeping her private life private remains a priority.
"There are some movie stars who are so massive that, no matter what they do, the paparazzi will follow them," she notes. "But, for the most part, people who are followed by the tabloids have cultivated that."
"That's not anything I have ever been interested in — certainly not for my family. I chose this career; my kids didn't."
Jeri is mom to Gisele Lynn, 23 months, with husband Christophe Émé, and Alex, 15, from a previous marriage.
Source: SheKnows