Keith Urban Has Yet to Pen a Song for Sunday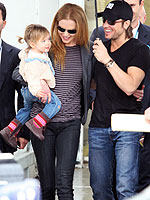 Flynet
He has sung songs about love and heartbreak, living life and finding happiness, but country crooner Keith Urban has kept one little lady out of his lyrics: daughter Sunday Rose, 19 months.
"Sunday hasn't appeared in a literal way in a song just yet," he tells The Boot.
Still, while it is impossible to pinpoint a song written specifically for his baby girl, Keith admits fatherhood in general has served as an inspiration for his music. "Certainly becoming a father deepens everything in my life, and that's apparent in the songs," the first-time dad says.
Although his wife Nicole Kidman has made it very clear that the couple's daughter is a little "Keithette," Keith is quick to point out that Sunday is "a great mix of the two of us." However, according to him, seeing both of themselves in their toddler is no big surprise.
"Nic and I are very similar in a lot of ways anyway," Keith notes. "She has this incredible determination and focus. That was inevitable that she'd get that!"
And while she may be taking after her parents' personalities, Sunday is quickly becoming a southern belle! With he and Nicole both natives of Australia, but having settled in Nashville, Tennessee, Keith laughs,
"I always joke that when she starts talking she's going to say, 'G'day, y'all!'"
Source: The Boot
— Anya