Pregnancy Makes Tiffani Thiessen Crave Red Meat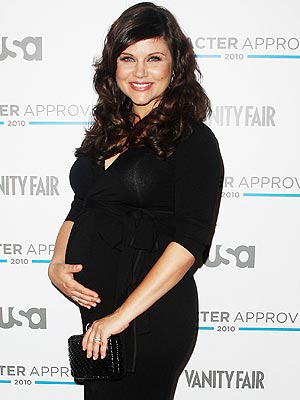 Amanda Schwab/Startraks
With only three months left before giving birth to her first child, Tiffani Thiessen is "feeling great" — and feeling differently about her diet.
"I was a vegetarian for many, many, many years and all of a sudden I started to crave red meat," Tiffani told PEOPLE at Thursday's USA network and Vanity Fair bash in New York City.
"Crazy enough I had a steak before I left tonight and I would never have eaten one before. One day I just woke up and craved meat. It's weird."
The White Collar star, 36, is also craving foot rubs from her husband Brady Smith.
"He rubs my feet, my shoulders and he always gets anything for me even if I'm all hormonal," she says. "I have the best husband and he's a sweetheart."
As for whether the two will be decorating the nursery pink or blue, it's top secret. But it was a question that immediately had to be answered for the former Saved By the Bell star.
"I couldn't wait to find out. Are you kidding?" she exclaims. "My husband I were way too excited to wait. We needed to know right away."
While she remained mum on the baby's sex and name, she is already dreaming about her little one.
"I had dreams about a child before I even was pregnant and my dreams now are about a boy or this girl that I don't know and we are playing together. It's weird, but I hear hormones make your brain go crazy."
Click below to see why her costars think she'll make a great mom and Tiffani's take on her pregnancy curves!
Though she will be a first-time mom, the actress' White Collar costar Matt Bomer says Tiffani's maternal instincts are already in full gear on set.
"She's totally the den mother of the show," says Matt. "She keeps us guys all in check and she makes sure that we are gentlemen. She's so organized and so loving and generous — that can only make her an absolutely amazing mom."
Meanwhile, Tiffani's White Collar husband Tim Dekay, a father-of-two, has already given the expectant mom some parenting wisdom of his own. "I told her that being a parent is like the Peace Corps. It's the toughest job that you will ever love," says Tim.
As for experiencing her changing body, Tiffani is taking advantages of her new curves. "The best part is not having to suck in your stomach anymore when wearing a tight dress. I love it!"
— Paul Chi