Jennifer Garner Forgoes Naps For Play Time With Violet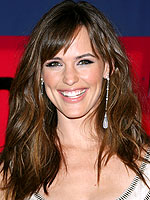 Jen Lowery/Startraks
During a recent visit to Lopez Tonight, actress Jennifer Garner touched on some of the lifestyle changes that often accompany motherhood.
When asked by host George Lopez whether she finds herself fitting in showers late at night once daughters Violet Anne, 4, and Seraphina Rose Elizabeth, 13 months, are asleep, the 37-year-old Valentine's Day star suggested that some days even that is a tall order!
"It doesn't mean I'm not clean," she insisted. "I take care of what needs to be taken care of, but as far as taking a shower or putting on any mascara — no. That doesn't happen."
George then recalled that with his own daughter Mayan, he and wife Ana would lay down on the floor "like a fire drill" and nap whenever their baby did. Jennifer said that she has never been able to do the same, noting "that's your time to do something else."
"You think, 'I need to take a nap. I should take a nap.' But you don't. [And] you can do that with one, but with the second [child], when the one goes down the other one is like, 'Great! I have you to myself! Let's go! Dollhouse. Let's go!'"
Violet and Sera are Jennifer's children with husband Ben Affleck.
Valentine's Day is in theaters now.
Source: Lopez Tonight