Emily Mortimer: Firstborn Is 'Very Into' New Baby May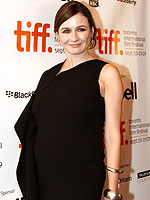 Scott Kirkland/INF
With a new baby at home and a new film to promote, British actress Emily Mortimer certainly has her hands full.
Fortunately, 5-week-old May Rose has proven to be an easy baby to care for. "[She] is so sweet," the 38-year-old Shutter Island star revealed to OK! at the film's New York City premiere.
"It's heartbreaking leaving her [for the] evening … I feel like it's going to be such a long night, but I can't wait to see the movie."
New big brother Samuel John, 6, is also making the transition well, according to Emily.
"He's being very, very sweet to her. He's very into the baby. He's not so much into me being into the baby. I have to pretend not to like the baby very much or my son will [get upset]."
From the sound of things, May gives Samuel plenty of reasons to be entertained. "She's smiling," Emily explained. "She's only a month old, but she's very advanced."
Samuel and May are Emily's children with husband Alessandro Nivola.
Shutter Island is in theaters now.
Source: OK!