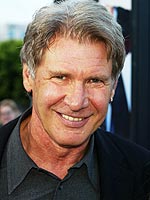 Kevin Winter/Getty
In a new interview with the Independent, actor Harrison Ford says that the 34-year age difference between his oldest and youngest child is a parenting asset, rather than a liability.
"My older children have taught me a lot," he reveals. "My first child was born when I was 25; I reckon I'm a little better at it now." When the interviewer suggests that at the age of 67, he might experience difficulty in keeping up with son Liam, 9, Harrison disagreed.
"I've got five kids in total, so it's not my first rodeo. Yeah, obviously, I'm getting older but I don't relate to it very much. It doesn't interest me as something to dwell on. I have a 9-year-old kid at home. I feel like the father of a 9-year-old."
At the same time, Harrison can't ignore that he already has three grandchildren — one of whom is twice as old as Liam.
"I have those obligations and that's my life," he concedes. "[But] I don't think so much about how old I am."
Harrison is dad to Benjamin, 43, and Willard, 41, with ex-wife Mary Marquardt; With ex-wife Melissa Mathison, he is dad to Malcolm, 23, and Georgia, 20. Liam is his son with fiancée Calista Flockhart.
Source: Independent