Claudia Schiffer Reveals Her Baby Beauty and Style Musts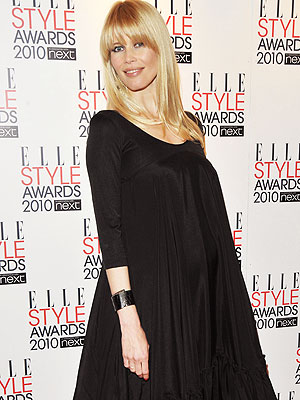 Jon Furniss/WireImage
She may be sporting a baby bump, but Claudia Schiffer's still a force in fashion.
Monday, the mom-to-be (for the third time!) was named Model of the Year at the 2010 ELLE Style Awards in London, but she mostly had babies on the brain.
In a loose fitting black jersey dress by Emma Cook, Miu Miu heeled booties and an Alexander McQueen clutch, the supermodel dished to PEOPLE's Celebrity Baby Blog on how to do maternity chic.
"I'm not the sort of person who likes to wear tight clothes when I'm pregnant, but I'm not a fan of maternity dresses either, so my advice would be to get things a few sizes bigger and have them tailored to fit."
When it comes to her pregnancy beauty routine, Claudia — who's expecting in May — swears by a mixture of oils and creams for her ever-expanding belly.
"I do like to put a lot of cream on my tummy, as long it's natural. I think it really works to help stretch marks and make the skin really nice and soft."
As for her favorite products, she says: "I use several! Balance Me oil is really good, Mama Mio has a thick buttery cream which is amazing and I also use this French organic oil too — I alternate them."
And just how does the supermodel maintain her mum-to-be glow?
"During my first pregnancy, I started to eat organically and healthily because that was the first time I actually thought about what I was putting in my body. I'm still doing that today and I'm also just taking it easy, not working out too much, just enjoying this time in my life."
— Monique Jessen