Patrick Dempsey: Hands-On Doctor Dad!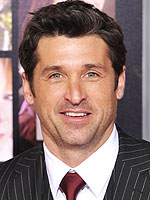 John Shearer/WireImage
Already father to 8-year-old Talula Fyfe when he welcomed his fraternal twin boys, Patrick Dempsey believed he had parenting down pat. However, with Darby Galen and Sullivan Patrick, now 3, the actor has quickly learned that raising sons is an entirely different endeavor.
"Boys are completely different than girls for obvious reasons, but physically they're so much more active!" he says during an appearance on Jimmy Kimmel Live! "You cannot turn your back [because] there's always an injury, there's always something going on."
Unfortunately, Patrick, 44, and his wife Jillian learned that lesson the hard way when the twins decided to have an impromptu dance party on the dining room table. "They were dancing and doing sort of … a mosh pit, jumping on each other," he recalls. "One of the boys broke his arm."
Quickly taking him to the hospital, the Grey's Anatomy star — who jokes that he has an extra pair of scrubs on hand for those types of situations — was met with a few raised eyebrows upon entering the emergency room.
"I say, 'I got it, just show me the [operating room] and I got it,'" he laughs. "There's a look of amusement and then dismissal, 'You sit out there…'"
While his son is "fine, they heal rapidly," Patrick — who plays a neurosurgeon on his hit show — can't help but joke about his leg up when it comes to his children's medical needs. "Usually, if there's an aneurysm I'm right there," he notes.
"I get a lot of equipment from Grey's, so I have my own OR which is really nice. I do a lot of brain surgery on them — experimentation."
Source: Jimmy Kimmel Live!
– Anya