Bode Miller Reveling In Life With Daughter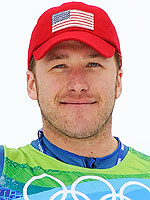 Michael Kappeler/AFP/Getty
Much has changed for alpine skier Bode Miller since the 2006 Olympic Games in Turin, Italy, and fatherhood is at the top of the list. Since revealing last year that he welcomed a daughter — Neesyn Dacey — in Feb. 2008, Bode has been a devoted dad, soaking up every moment he has with his 2-year-old little girl.
"It's crazy," he recently blogged. "It's really fun to hang out with Dacey when she's this age."
"Kids learn so much so quickly and they watch so closely. They have a special relationship with their parents at this age. You basically are their entire world. And that's kind of cool because by the time she's 13 she will probably want nothing to do with me."
Although Bode, 32, and Dacey's mom were not romantically involved at the time of Dacey's birth, Bode says he wouldn't change a thing.
"The mother is a good friend of mine who I was seeing a while ago," he explained. "We are no longer together [and] were kind of already doing our own thing when she found out she was pregnant."
"We are just really good friends trying to be good parents. I obviously would have liked it to be an ideal situation where everything is planned and perfect, but it seems like a lot of stuff doesn't work out that way. I'm happy the way it is."
Currently competing in the 2010 Winter Olympics in Vancouver, Bode has already taken home one medal of each color.
Source: San Diego Union Tribune