Tim McGraw's Daughters Hitting the Road With Dad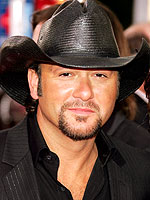 Kevin Winter/Getty
Talk about a summer vacation!
Tim McGraw reveals in a new interview with the Omaha World-Herald that he will hardly be going it alone during his massive 2010 tour; The country singer says he'll be bringing daughters Gracie Katherine, 12, Maggie Elizabeth, 11, and Audrey Caroline, 8, with him.
"My kids are excited," he reveals. "[The shows will be] mostly weekends during school, but once school is over we'll hit it harder."
Keeping any disruption to the girls' education at a minimum is a priority for Tim, however.
"Even days when the kids are in school, I won't leave home until 4 or 5 in the afternoon and fly in and do the show and then fly home," he notes. "It's a lot of air time."
"Family is right up there first — the kids' schedule and all of the things they're doing. After that, everything else sort of finds its place."
Tim, 42, has a good ally in wife Faith Hill, whom he credits with being "very good at organization," adding,
"So she has all the kids' schedules, her schedule, her mom's schedule, all the extracurricular activities and my schedule all lined up."
Source: Omaha World-Herald