Taye Diggs Happy to Take On Diaper Duty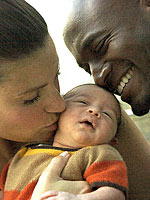 AP/Courtesy of Idina Menzel and Taye Diggs
New dad Taye Diggs could use some serious shut-eye! Stopping by Good Morning America recently, the Private Practice star was noticeably quiet, but attributed it to his hectic schedule.
"It's early, it's very early," he said with a laugh. "I'm just trying to get through [and then] I'll be back [in Los Angeles] tonight to see the little man."
The little man in question is Taye and wife Idina Menzel's 5-month-old son Walker Nathaniel, and the proud papa was more than willing to dish on baby boy's latest milestones.
"He's almost standing, he's laughing a lot when I come in to get him in the morning to change his diaper, he's smiling, he's brilliant," Taye raves, before adding, "I can't stop talking about him!"
Exhaustion aside, Taye is "loving" first-time fatherhood. So much so, in fact, that the actor has no qualms about changing diapers, despite openly admitting that Walker "tears it up" on the changing table.
"It is love, let me tell you, his diapers are no joke. But even then I'm such a proud father I'm like, 'Good for you! Good for you little man!'"
Enjoying his continued success — both in his career and his personal life — the Private Practice star is the first to point out that he will be forever grateful. "I'm blessed," he notes. "It's so cliché to say, but life is good."
Source: Good Morning America
— Anya