Oilo's Stylish and Sophisticated Baby Décor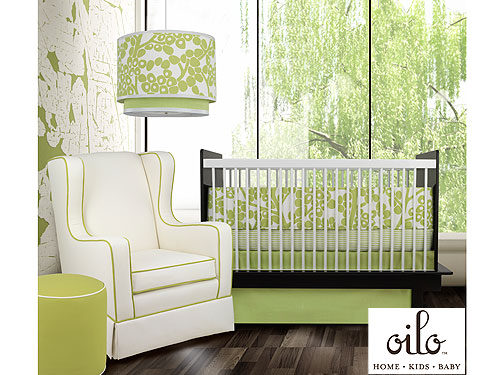 Courtesy of Oilo
If you like your nursery décor more chic than cutesy, you'll love the brand new mod-inspired collection ($40 to $1,300) from Oilo. High on design, it includes everything from elegant faux-leather gliders to throw pillows in beautiful, yet clean graphic prints.
But it's not just pretty to look at; touch it and you'll feel like you've wrapped your baby in a thousand little kitten paws. It's that soft. The crib sets ($400) — bumper cover, bed skirt and crib sheet — are made of 100 percent woven cotton and come in four sophisticated patterns (Wheels, Cobblestone, Berries, Raindrops) in hushed neutral colors like spring green, aqua, chocolate brown, taupe and cobalt.
Just as charming is the matching lighting ($150 to $200). Available in two styles (double decker and cylinder), the lampshades are designed to cast a soft glow — perfect for sleeping babies. They're also customizable, so you can get any print combination that you want.
Shop the full Oilo collection here or search for stores in your area.