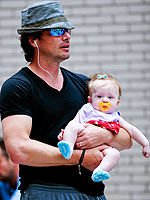 Ray Tamarra/Getty Images
Amid the gossip and rumors about the state of his marriage, Gossip Girl star Matthew Settle confirms that he and his wife Naama Nativ have separated.
"It's true and we are working on that," the actor told PEOPLE at Tuesday's G-Star Raw runway fashion show in New York. "Things happen in life and you just have to roll with it. I wish things could have been better but our focus is on our daughter."
Matthew, 40, and Naama, 26, welcomed their first child, Aven Angelica, last March and despite the split, the doting dad is keeping his spirits up by concentrating on his 11-month-old baby girl as she learns to walk.
"She can walk but she's afraid to," Matthew told Celebrity Baby Blog. "She walks behind her Ikea stroller that we have. I try to walk with her holding her hands, but the moment I touch her she wants to sit down. She knows that you are going to ask her to walk and she's like, 'I'm not ready!' So I think she's going to be cautious, which is good because I'm not always the most cautious person."
Matthew will soon take a risk of his own — he'll make his Broadway debut as Billy Flynn in the musical Chicago for a 10-week limited engagement next month — but at home he already has a duet partner with Aven.
"I have videotape of her singing," he said. "I bought her a cute little piano called My First Piano and she plays on it and goes, 'Laa laa.' She kind of makes her own tunes. She's a little musician waiting to happen."
Besides taking on her dad's singing talent, Matthew says she shares the same type comedy as him. "She's got a really good sense of humor," he said. "She smiles a lot and she's got irony."
– Paul Chi