Heidi Klum Talks New Maternity Lines, Babies and More!
Heidi Klum kicked off this year's New York Fashion Week with a bang. Last Thursday, the supermodel hosted an invite-only baby shower to celebrate the launch of her maternity lines — Loved and Lavish — where a lucky group of New York City moms, including Olympic gold medalist Kerri Walsh and Jessica Seinfeld, got a sneak peek of the collections (below) before they hit stores. And the following morning, she hosted the finale show for Project Runway's seventh season. Talk about a full plate!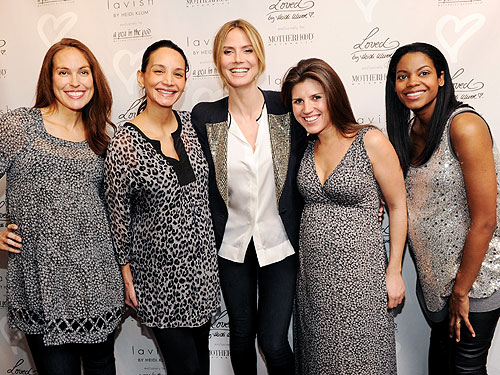 Kevin Mazur/WireImage
PEOPLE's Celebrity Baby Blog caught up with the busy mom-of-four at the Destination Maternity event and she opened up about what inspired her designs, Lou's little smiles and how every day is Valentine's Day with hubby, Seal.
Click below to read our interview!
What was the inspiration for Loved (available at Motherhood Maternity) and Lavish (available at A Pea in the Pod)?
Loved was inspired by the love surrounding you and your baby while you're pregnant. We came up with Lavish because there's no grander expression of everything you want to give yourself and the child growing within. It's all about the extravagance of love.
What made you decide to create a maternity line?
I experienced some style challenges during my four pregnancies, so I wanted to create maternity fashions that allow women to show off their beautiful shapes. As my bump grew, I would look in the mirror and be in awe of the changes happening to my body. I was creating a nourishing space for this new life. My clothes are all about making you feel great during this process.
What did you learn about maternity wear when dressing for your pregnancies?
Being pregnant shouldn't keep you from being fashionable and feeling great. It's an exciting journey! Plus, you don't just need maternity clothes when you're pregnant. You'll still need them two months after the baby's born.
What is your maternity style?
I wore whatever made me feel good. I wore a lot of leggings and tunics, and pieces made out of soft, yummy fabrics — all of which are in the collections. I had fun creating new looks for each of my pregnancies.
How does Loved and Lavish differ from what you wore during your pregnancy?
They don't differ very much from what I wore! I really tried to create comfortable, stylish options that I love.
Your littlest one Lou, what are her latest milestones?

She can lift her head up.
 And she
 smiles all the time. She's also started teething so she likes to chew on her chewing ring a lot.
What do your older kids think of her? Have they been helping
 out?

They all love her. Leni has changed a few diapers, but she
 plugs her nose and goes, "Oooo!"
Did your kids have any input in the maternity lines?
No, not really. Even though my daughter [Leni] was there when I
 designed the floral pattern for some of the fabrics. She was like, "Wow, so many of them." I've been thinking that maybe one day 
I'll have her create a pattern for me too.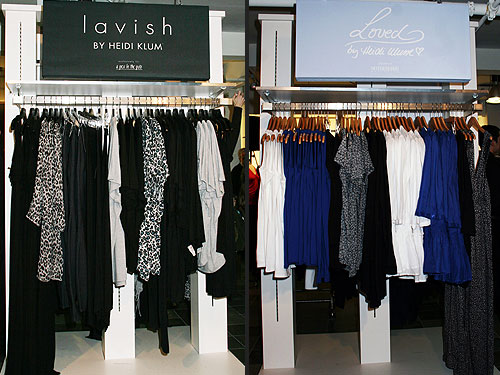 Diane Cohen/Fa
— Jennifer Wren and Samantha McIntyre