Nicole Richie: Kids' Naming Pattern Was Unintentional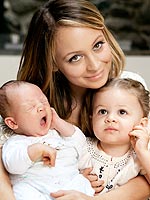 Justin Coit for PEOPLE for use on CBB
The media may be filled with chatter surrounding her engagement to Joel Madden, but Nicole Richie managed to keep mum on the topic during a Tuesday visit to Live with Regis and Kelly.
Instead, the mother-of-two kept her focus on the family's latest production: son Sparrow James Midnight, 5 months.
"He's humongous, he's 16 pounds," Nicole reveals.
Of baby boy's unusual moniker, Nicole, 28, admits that finding a name both she and Joel agree on is no easy feat. "Joel and I have very different tastes in names," she explains.
"We really just have to work with whatever it is we both agree on, so I really liked Sparrow from Captain Jack Sparrow, and he liked it for different reasons."
As for Sparrow — whom the couple affectionately call "Row" — sharing the same name ending with older sister Harlow Winter Kate, 2, Nicole admits the pattern was unintentional.
"I didn't even realize that [both of their names] ended with 'ow,'" she says. And in order to put a stop to the trend, the couple will head back to the drawing board for any future additions.
"I love the name Willow, and now that's out because I'm not gonna have all kids with 'ows!'"
Source: Live with Regis and Kelly
— Anya