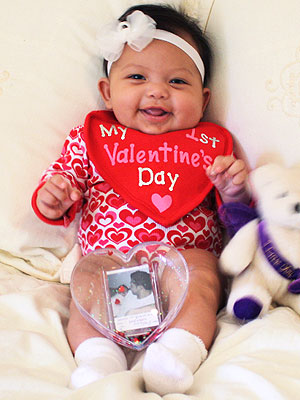 Courtesy Layla Kayleigh for use on CBB
America's Best Dance Crew co-host Layla Kayleigh is letting CBB readers follow along as she tackles first-time motherhood — daughter Melody Rain is now 3 ½ months old.
If you missed Layla's prior entries, click here to read!
Melody's First Valentine's Day
I've never been a big Valentine's Day person. Not because I don't believe in love or because I'm a scrooge, in fact quite the opposite — I'm a hopeless romantic.
However, I'd much rather be surprised with flowers or chocolate on a random day, rather than on a day when so many men (and women) feel pressure to do something extravagant and thoughtful for their significant others.
Although I'm not complaining that Steven woke me up to breakfast in bed! That's the first time I've had breakfast since giving birth! (Thanks babe.)

Having said that, these holidays small or large have become more special to me, and my attitude has completely changed since having Melody.
Whether it's Christmas, Easter or even an invented holiday such as Valentine's Day they mean so much more to me now than they ever did. It's amazing how children make you see everything for the first time again.
Click below for more from Layla!

The other day Melody's gaze was transfixed on the ceiling and when I looked up, I saw she was staring at the light fixture.
I was puzzled at first, thinking, "What on earth is so interesting about that?" but when I looked again, I began noticing the different shades, textures and hues …  it made me look at this light in a brand new way even though I've walked past it a million times and never even taken a second glance at it.
That's one of my favorite things about being a mother — you get to appreciate things all over again when you see the beauty of the world through your child's eyes.
You realize how much we can take for granted sometimes and how it's the simple things that make life so beautiful.
I love looking at her look at the world. It makes my heart melt and makes me appreciate my life, my partner and my daughter on another level. Here's a picture of Melody on her first Valentine's Day. She's the love of my life. I'm so happy she's our valentine.
What's your favorite thing about being a parent?
Much love,
Layla