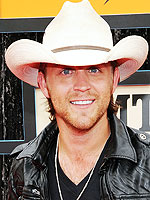 Jeff Snyder/Picture Group
It's a girl for country crooner Justin Moore and his wife Kate! The couple became first-time parents when they welcomed daughter Ella Kole Moore on Thursday, Feb. 11th at 12:29 p.m.
Baby girl — who shares her middle name with her dad — weighed in at 6 lbs., 8 oz. and, according to the proud papa, is everything he hoped.
"She and my wife are perfect. Both are doing great," he raves. "All I can say is, wow!  It's the most unbelievable thing I've ever been through … so thankful."
With the Small Town USA singer currently on the American Saturday Night tour with father-of-two Brad Paisley, Justin and Kate opted for a planned c-section to ensure no last-minute surprises.
"I'm so busy that we just had to pick a day," Justin explained. "We picked the 11th, because that's the earliest they would let us do it. What's going to be horrible is that I have to leave on the 12th, so it's going to be rough. At least I know that I will be there, and I won't be missing out."
The pregnancy had been announced in October.
Source: The Boot
– Anya