Billie Piper 'Grateful' for Peace and Quiet After Son's Birth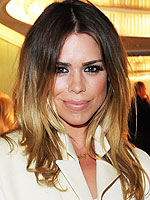 Jon Furniss/WireImage
When Billie Piper retired to the English countryside to finish out her pregnancy with son Winston James, 15 months, she soon realized that there is such a thing as too much downtime.
"I did go a bit Sylvia Plath down there," she tells the UK's Times Online. "Staring at the condensation on the window and wondering where it comes from. Following slugs in the garden that hadn't moved a foot, and feeling a bit desperate."
After an emergency c-section that left her "barely [able to] walk" and with husband Laurence Fox away on location, Billie, 27, says that the solitude turned out to be a good thing indeed.
"I was alone in the country with a newborn baby for three weeks," she notes.
"I'm actually grateful for that time now. It forced me to be in bed with my child. And really that was the only time that I was still, with baby, without distractions or confusion. It was just the two of us. You sleep when they sleep and feed when they feed."
While still pregnant, Billie admits she had become "completely neurotic." She quips,
"[I] saw what I'd be like without booze and [cigarettes]. And it ain't pretty."
Click below to read about what makes Billie 'really angry.'
Postpartum, things weren't much better! Asked about her speedy return to pre-baby size, Billie explains "it was literally just about going mental for six weeks." Admitting that she has been "quite lucky," Billie also reveals that she "wasn't massively healthy" either.
"I just ate loads of protein. It's either that or speed pills, and the thing is you do actually have to sleep at some point. You've got to try and maintain a healthy marriage and I'm not sure that amphetamines are that conducive to a successful relationship."
Speaking of her marriage, Billie says that since becoming a mom she has at times struggled to redefine her role, and reconcile it with her job on Secret Diary of a Call Girl.
"You want to work, you want to be a wife, you want to be a mum, you want to be in control but then you also want to feel small in your husband's arms," she explains. "There are wildly conflicting emotional responses to everything."
Including, it seems, the thought of Winston growing up! Billie admits that she's already begun to torture herself with scenarios involving schoolyard bullies and the like. "I get really angry," she says, "and then I think, 'He's 1-year-old; What are you doing?'"
"Only the other night I was having a conversation with Laurence. I said, 'Is it just me or can you ever imagine letting Winston walk from our house to the end of our street on his own,' He said, 'No, I can't.' So that's it! He's not doing it."
Secret Diary of a Call Girl airs Mondays at 10 p.m. on Showtime.
Source: Times Online