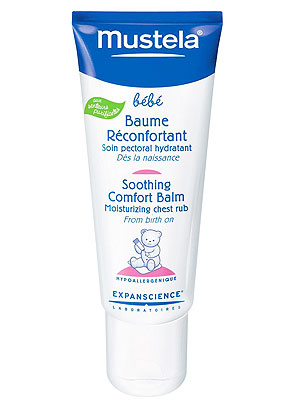 Courtesy of Mustela
Watching your baby struggle through their first cold is no fun. There's nothing you wouldn't do to ease their discomfort. Now you can try Mustela's new Soothing Comfort Balm ($13).
Made with all-natural, baby-friendly ingredients, the handy chest rub was developed to safely soothe sniffly, stuffed up newborns.
While other brands use terpene compounds — which can pose a risk to the nervous system — Mustela lets Mother Nature do all the work.
Pine and rosemary open up nasal passages while Shea butter and honey extract ease achy skin and muscles. There's even a touch of chamomile and lemon to help cranky tots sleep.
Just gently rub the balm on your baby's neck, chest and back just before bed or naptime — you'll be amazed at how quickly your little one feels better.
— Missy