Robin Thicke Is 'So Proud' of His Super Sperm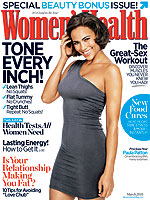 Courtesy Women's Health for use on CBB
Bump watch is familiar territory for the women of Hollywood, but when whispers of a possible pregnancy for Paula Patton began circulating in 2008, the Precious star found it particularly painful.
"That's when you realize you do care what people think," she tells the March issue of Women's Health.
Although she was not pregnant at the time — a baby doll dress and a few extra pounds ignited the rumors — Paula, 34, and husband Robin Thicke soon decided to take the plunge and pursue parenthood.
"You can get into that cycle of 'What's next? What's next?'" she says. "But I thought, 'I want to have children and I'm not getting any younger.'"
Because she had been using birth control, Paula admits she worried they would experience difficulty conceiving a baby. Those fears were unfounded, however, for Robin's "super sperm" did the trick soon after the couple began trying. "He's so proud of himself, it's ridiculous," Paula quips of her husband of four years.
Expecting a boy in May, Paula says she is "trying to eat smart" with the hope of avoiding a prolonged struggle to lose the baby weight. "I try to eat a salad every day," she reveals, "[and] I switched from drinking coffee to green tea." Although she has developed an affinity for milkshakes, the actress keeps the craving in check by filling up with fruit or water beforehand.
"When people say, 'You have a pregnancy glow' I wonder if it has to do with my healthier lifestyle," she muses. "No more cocktails and I'm getting more sleep than ever — nine or 10 hours a night. I was never that girl."
Exercise is also part of her plan, but Paula admits she's "cut back" on the Ashtanga yoga she regularly practiced before becoming pregnant. "I told my trainer I don't want to see the inside of a gym," the actress recalls.
"She said, 'Don't worry. I'll have you back [in shape] in six weeks.'"
Source: Women's Health, March issue