Jill Scott Reveals Her Motherhood Moment of Truth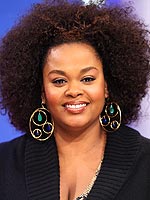 Scott Gries/Getty
The first few months of motherhood for Jill Scott were anything but the divine experience she had imagined. In fact, the actress joked during a tongue-in-cheek appearance on Chelsea Lately, she often contemplated returning her then-newborn son Jett Hamilton!
"I'm going to keep it real gully with you, the first two months I wanted to give him back," she confesses.
Opening up about her struggles as a first-time mom, Jill is determined to let new mothers know they are not alone in their feelings of desperation.
"I expected someone to come and save me because after you have the baby, nobody cares about you anymore," she recalls. "Nobody cares if you sleep, nobody cares if you eat. It's just you and this all-consuming thingy!" Noting that a new baby demands "all of your time and all of your attention," Jill reveals that the initial period of adjustment "hurts."
However, it wasn't long before Jill saw the light at the end of the tunnel and everything fell into place.
"One day, when I was standing by the door and I was considering throwing him out into the pool — sleep deprivation is ugly — at that very moment I looked and said, 'Ah! I love you!' And that's what did it."
Despite the rough start, Jill is loving life with her "gentle" baby boy, now 9 months, whom she has dubbed "Casanova Tender Lover" because of his sweet disposition.
"It's a lot of work, a lot of work," she says of motherhood. "I'm sure other people have had children before, but not like [my baby]."
Jett is Jill's son with ex-fiancé Lil John Roberts.
Source: Chelsea Lately
— Anya