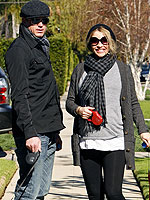 Ben Dome/Pacific Coast News
During a recent visit to Jimmy Kimmel Live!, Eric Dane revealed that the baby girl he expects with wife Rebecca Gayheart could arrive earlier than expected. "The upgrade is coming soon," he said, "[in] two, three weeks maybe."
The couple have likely settled on a name, but "Rebecca wants to wait to see her before we start calling her it," the Grey's Anatomy star explained, because "you want to make sure that the name sticks."
Although he opted not to share their choice with the public at large, Eric, 37, promised that the "fairly" traditional moniker has been well received by the couple's family and friends.
When show host Jimmy Kimmel pointed out that they could be muting their response for fear of offending the couple, Eric agreed — to a point.
"You don't want to say [you don't like it] because you don't want to be met with an adverse reaction, but I think this one is going to fly."
When pressed by Jimmy — who jokingly suggested the name Jane Dane — to clarify whether baby girl would have a "normal name" or "one of those crazy celebrity names," Eric said that neither label will apply.
"We went straight down the middle."
Baby-on-the-way will be the first for Eric and Rebecca, who celebrated their five-year anniversary in October.
Source: Jimmy Kimmel Live!