Pete Wentz Enjoys Making Babies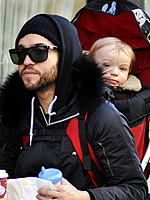 INF
He's only been a father for 14 months, but it's a job rocker Pete Wentz says he'd love to try again.
"We are very lucky and hope to have another child at some point," Pete — who has a son, Bronx Mowgli, with wife Ashlee Simpson-Wentz — tells PEOPLE during Hard Rock International's Rock & Soul Party Friday night near Miami.
Adds the rocker: "We also like doing what you have to do to have a baby!"
"My child has taught me selflessness, patience and how to give this unexplained kind of love," Pete, 30, says at the party, where he was asked to deejay by football agent Drew Rosenhaus. "I can't explain this kind of love, but Ashlee, who is just an awesome mom, shares this feeling with me."
As for his other job, bassist for Fall Out Boy, Pete says he's looking for new challenges now that the fate of the band remains uncertain.
"I am solo tonight, but I won't sing or perform a song," he says. "I will just deejay. As for the breakup with the band, all I can say is that for now I want to chill."
— Rennie Dyball