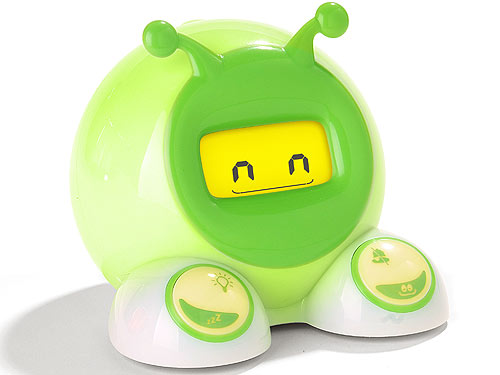 Courtesy of Onaroo by American Innovative
Sometimes it's hard for early-rising toddlers to understand their parents need a few extra winks of sleep before starting their day. Now, thanks to the brand new OK to Wake! Alarm Clock and Nightlight ($30) from Onaroo by American Innovative that conversation just got a whole lot easier. Super cool and kid-friendly, it's a great way to introduce the little ones to a daily routine.
Things we like: The initial set-up is a breeze. And programming the time is just as simple, consisting of just a few quick steps. Our favorite setting is the alarm. Once you choose a time, the entire clock will glow green each morning to let your child know it's "OK to Wake!".
The clock also features a handy nap timer and a yellow nightlight that turns on when you press the left toe button. Added bonus: When your kid's a little older, this adorable device turns into a traditional alarm clock.
We love the fun and modern look, which will blend in nicely with any preschooler's decor. It also comes with two faceplates — green bug or pink flower — so it can be customized for a boy or a girl.
Things we didn't like: You have to check the batteries often because when they are running low, the display doesn't shine as bright.
CBB Rating: A great, reliable product that might just net you an extra hour (or two) of sleep — for a little while at least!
— Missy