Shannon Miller: There's Nothing Like Rocco's Smile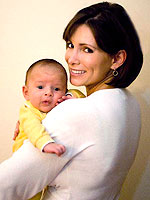 Courtesy Shannon Miller
Olympic gymnast Shannon Miller says it's never too soon to mitigate against childhood obesity, and she cites son John Rocco, 3 months, as an example.
"Right now I am making sure that my diet is healthy so that he is getting all the nutrients he needs while nursing," she explains while explaining her own foundation's work with the Healthy Weight Commitment Foundation. "Soon we'll begin solid foods."
Conceding that "it will be awhile until I need to begin talking to him about good nutrition," Shannon nonetheless says that she and husband John Falconetti plan to set a good example when it comes to physical fitness.
"[We] talk about how to keep him active and eating healthy so that when the time comes we are both on the same page. I'm planning to start a mommy and me class once he is walking. Of course, that's fun for him and me! I want Rocco to grow up thinking of physical activity as enjoyable. It should be."
Someday, limiting Rocco's time spent in front of the television and the computer will be key to their efforts and the couple have already agreed on rules like no TV on school nights or at the dinner table. For the immediate time being, "we play music and talk or read to him," Shannon, 32, says, and weather-permitting they head for the great outdoors.
"We have already made weekend walks part of our routine. The earlier the better. Children that are active tend to stay active through adulthood. Of course, Rocco is just along for the ride for a while."
First-time motherhood has been eye-opening for the seven-time Olympic medalist. "I had no idea what to expect," she confesses. Although Rocco has struggled with acid reflux, Shannon notes that he has been sleeping through the night since seven weeks of age.
"We have been very blessed and just adore Rocco," she says.
"There is nothing like seeing him smile! He's such a sweetheart and has the cutest little boy face. The best is when he sticks his little lower lip out to pout. Unfortunately for him, it doesn't quite have the desired effect; we just giggle then run and get the camera."
Source: CafeMom