Keri Russell Dishes on Dance Parties With River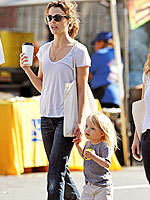 Pacific Coast News
Like mother, like son! Keri Russell tells iVillage that the biggest trait son River, 2 ½, inherited from mom is a general "silliness." She adds,
"We dance around and act really crazy all the time. He's a really sweet little guy so far."
Joking that "when he becomes the genius that I am, I'll say, 'Oh yes — that's from me,'" Keri, 33, considers herself fortunate to be a full-time actress and mom.
"Luckily, right now, the schedule I get to keep with film really allows me" to balance work and family, she explains.
"I get to work really hard for three months but then I get to be home for four months where I get to put him to bed every night. I like getting to be in the adult world a little bit and then getting to be in the mom world and cook dinners. And for me that balance is what makes it nice."
River is Keri's son with husband Shane Deary. Her new film Extraordinary Measures is in theaters now.
Source: iVillage