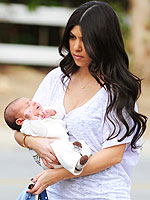 Albert Michael/Startraks
Fans of Keeping Up with the Kardashians know that Scott Disick — boyfriend of Kourtney Kardashian and father of the reality star's 7 ½-week-old son Mason Dash — is often regarded with disdain by the Kardashian clan as a whole.
"It's still like a sick joke that no matter what he does, they pick on him," Kourtney lamented during a recent appearance on Jimmy Kimmel Live!. Since the couple welcomed their baby boy, however, the tides have begun to turn. She explains,
"My mom is so much nicer to [Scott] … and so much nicer to me. Whenever I'm on the phone she's like, 'Sweetie, oh my gosh!' And I'm like, 'Whoa, where did this come from?'"
Adding that "since Mason … everything has been great and everyone has been getting along," Kourtney, 30, says that even if her mom and siblings backslide she isn't concerned.
"I'm fine with it," she insists, "[because] I know that we're good, we have our little family now, so if people don't like it … then don't come over."
As for Kourtney's body after baby, progress has been steady! "I actually gained 40 lbs.," she revealed. "I've lost 25, so I still have 15 to go." When host Jimmy Kimmel reminded Kourtney that she must include Mason's birth weight of 7 lbs., 6 oz. in her calculations, she agreed.
"I feel like there's some other stuff that comes out, too," joked Kourtney. "Definitely … that's not pretty."
Source: Jimmy Kimmel Live!