Kim Raver Turns to Internet For Homework Help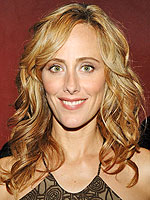 Jamie McCarthy/WireImage
Memorizing the never-ending medical terminology for her latest role on Grey's Anatomy is a breeze compared to tackling her 7-year-old son Luke West's homework, according to actress Kim Raver.
"He comes home with homework and I'm like, 'Um, let's just Google that! I know what it is, but let's just do some research,'" she confesses during a humorous recent appearance on Jimmy Kimmel Live!
After finishing up a semester spent studying the ocean and tide pools, Luke has developed a love for sharks. In fact, much of his time is spent on YouTube searching for shark attack clips. However, after a few close-calls Kim admits she is always nearby in case his quest goes awry!
"You gotta be really careful with YouTube because it's shark attacks and then it's cougar attacks and then it goes into women … I'm like, 'Oh my God! You can't watch that!'"
Despite the plethora of footage, watching sharks onscreen isn't satisfying Luke's passion, Kim says. After he inquired about getting one as a family pet, Kim — not too keen on the idea of caring for an animal — met her son halfway and purchased a goldfish.
"I thought, that's not so bad, that's easy," she admits, before adding that she spoke much too soon.
Click below to read what happened next!

"We went out and I had a couple of drinks. We have this black island in the kitchen and [when we got home] I said, 'Who had sushi for dinner?'" she recalls.
"I get closer and there's this piece of sushi on the black slab and I go, 'Ah! It's his goldfish! It's Spongebob Squarefish!"
Determined to not break the bad news to Luke, Kim grabbed the fish and tossed him back in the tank and — much to her surprise — watched her son's pet come back to life!
"It was like a minute and he just started swimming again. He is still up and swimming," she proudly states.
Not looking to push her luck, Kim insists the goldfish's near-death experience means no sharks in her household!
"That's all I can handle! I don't think I can handle a shark."
Kim and her husband Manu Boyer are also parents to Leo Kipling, 2.
Source: Jimmy Kimmel Live!
— Anya